Creating and Installing Quality Epoxy Floors
Palma Inc. has stood for quality since 1927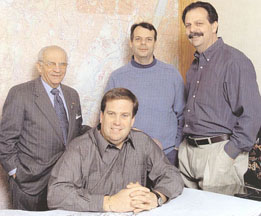 Palma Inc. was founded in 1927 by Fred Palma, Sr. as a local tile, terrazzo and marble business. Mr. Palma believed then, as we do today, that a top quality product combined with professional application and service results in successful projects and satisfied repeat customers.Our specialty today is the formulation and application of durable, economical, and attractive epoxy flooring systems. Today, Palma Inc, is a third generation family owned and operated firm. We continue to operate by Fred Palma Sr.'s basic principle of conducting business, and have expanded to service customers throughout the United States and Canada. We provide epoxy floor coatings for all types of businesses and government organizations.
Complete Capability:
Through on-going research and development, Palma Inc. has created a full line of effective and efficient products that provide a broad range of flooring solutions. Our proven systems and techniques for application of epoxy flooring systems and integral cove base have produced millions of square feet of PalmaLite Palikrom multicolor and Unikrom solid color flooring. Additionally, PalmaLite products which include Novolac and Decorative Flake 100, have established themselves as quality products in the marketplace.
Every square foot of seam-free flooring is managed and approved by a member of the Palma family. It is our commitment to carry on the tradition of our founder – to provide the best epoxy flooring on the market today – a product that will give years of reliable flooring use to our customers.
PalmaLite Resinous Flooring Systems:
Provides Years of Dependable Service: A new Palma floor provides years of service.  Customized to Meet Your Requirements: Palma top coatings are customized to provide the proper chemical, abrasion, heat and slip resistance.
PalmaLite Floors are Attractive:
Palma's colors are bright, rich and long-lasting. With 12 new Palikrom colors and 8 Unikrom colors, you can specify Palma to match subtle background tones and bold accent hues. Palma's exclusive Palikrom flooring system utilizes innovative color quartz.
100% Solids: An epoxy flooring resin formulation is a resin system consisting of Dow Chemical liquid resin and a curing agent. Both have a low viscosity that is easily processed and modified. One hundred percent solids formulations are applied to dry and moist surfaces.
Exceeds ASTM Standards:
All Palma epoxy systems meet ASTM standard specification for resinous monolithic surfacing, (ASTM Designation C722-89, Committee C.03). It includes requirements for tensile strength, compressive strength, water absorption, elasticity, thermal expansion, and chemical resistance. (Certified Palma test results available.)
Single Source Formulator/Applicator:
Palma is a single source epoxy flooring formulator and applicator, one of the few such firms in the country. Palma is responsible for start-to-finish quality control and supervision. A Palma certified expert is in charge of the project, from beginning to end.
Concrete Design:
One of the most critical aspects of a job is the quality of the concrete under our floors. Palma provides a 5-year guarantee, the strongest in the industry, against blistering, structural cracking, and de-bonding, when Palma's unique design for new concrete is used (details available).
Waterproof:
A Palma floor never needs a membrane. Other epoxy flooring systems often require a membrane costing 30 to 40 percent more than a Palma floor.
Bacteria and Fungus Resistant:
Palma epoxy floors do not support the growth of fungus or bacteria.
PalmaLite Seam Free Resinous Flooring:
You can specify PalmaLite for a broad range of industrial, commercial, and institutional applications with full confidence. PalmaLite gives years of service. With a new Color line and Palma's single source responsibility, from formulation to application control, PalmaLite performs! Choose a PalmaLite floor system for your next project for these and other areas where you want quality, long-wearing resinous flooring.