Slip-Resistant Flooring for Locker Rooms
Epoxy flooring that will make any sports changing room look like a clubhouse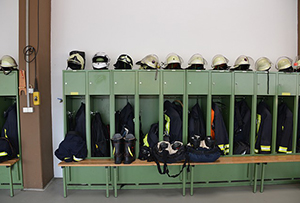 Locker rooms need to withstand a variety of elements from both inside your facility and outside. Palma Inc. Can design and install a locker or sports changing room floor for your facility whether you have a sports team or a team of emergency management professionals that need to clean up after a hard day's work.
Palma Inc.'s expert technicians can complete your locker room with school, team or company colors and logos. The durability of our epoxy floors can stand up to the punishment of your team and still look fresh after the season. These slip-resistant floors can be sensitive enough walk with bare feet but stand up abrasive detergents and chemicals.
Factors to consider when choosing a locker room floor:
Is your locker room for a sports team, workplace or gym or training facility?
Do you have sports logo or team colors you want to include?
Is there a shower facility in your locker room?
Will athletes wear equipment such as spiked shoes or skates in the locker room?
To learn more and obtain specific information about locker room floors, contact us.
What floor is best for Locker Rooms?
Formulated for superior slip resistance and mold and mildew resistance. With no grout or gaps between tiles, there is nowhere for mold to hide.
Solid color, dependable flooring with superior slip resistance. Waterproof for proper drainage with a clean finish that is easy to maintain.