Flooring That Reflects The Beauty of Your Cars
Epoxy floors for dealerships, showrooms and garages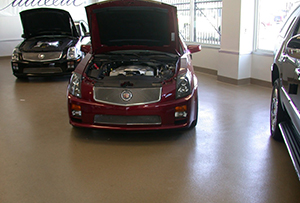 When you deal with cars for a living, the last thing you need to worry about is the floor they are parked on.  Let Palma Inc. put your mind at ease, with knowledge that your showroom floor, lobby, detailing shop or maintenance area is looking its best and built to last.  Palma floors are built to withstand excess weight, fuel and oil spills, high heat and aggressive chemicals that are business as usual in the automotive industry.
This means your showroom floor will keep looking like new for years to come, your garage floor will never become stained with oil and tire marks.  Your restrooms will be free of mold and mildew that can hide along the edges of walls and in between tiles.  Our entire line of floors are also slip resistant which can help reduce the occurrence of costly workplace accidents. Palma Inc. has the right floor for your automotive dealership commercial garage, automotive factory or showroom.
Factors to consider when choosing a floor for the automotive industry:
Lobbies and waiting areas
Sales floors, motorcycle. ATV, trucks, trailer, boat and camper showrooms
Leasing offices and auto rental offices
Restrooms and kitchens
Sales floors and administrative offices
Assembly and warehouse floors
Palma Inc. has the right flooring solution to keep your wheels in motion. Contact us today.
Suggested Floors for Automotive Applications
When you need a solution for a small showroom floor the PalmaLite UniKrom flooring system is available in 12 standard colors.
Since Henry Ford, automobile makers have sought to renovate the manufacturing process. Create a quality factory floor with UniKrom.