Floors Made For The Heat Of A Kitchen
Epoxy flooring for restaurants, bars, kitchens and food processing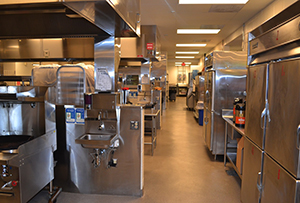 Palma Inc. floors can withstand the heat of any kitchen. That's because we know that restaurants, bar, breweries, cafeterias and wineries need to look and function flawlessly. These floors combine the style, aesthetic and flexibility required for the front of the house and the durability and easy-to-clean functionality required for the back of the house.
Palma Inc. epoxy floors provide slip-resistant and highly customizable decorative flooring for any food and beverage application. With our line of flooring options  you can design a solution that is fit from the tasting room to the dining room. Use these colors to make your bar or lounge stand out from the restaurant area. With Palma Inc. epoxy floors, you won't have to worry about deliveries damaging your floors or maintaining safe floor surfaces in your walk-in freezer or storeroom.
Factors to consider when choosing a floor for the food and beverage industry:
Do you want different looks for different areas of your kitchen, cafeteria or restaurant?
Do you want to customize your floor with color or decorative quartz?
Do you use harsh chemicals to clean your kitchen floors?
Do you have a dishwashing line?
Do you have walk in coolers/freezers?
Contact us to learn more about custom flooring options for the food and beverage industry.
Suggested Floors for Food & Beverage
Heat resistant, sterile, sanitary flooring for heavy duty kitchens, food packaging and animal processing plants.
Ideal flooring for food service areas, prep lines, dessert areas, food production areas. Sterile, sanitary and easy to maintain.