Flooring That Stands Up To The Toughest Animals
Floors for vets, pet shops and animal facilities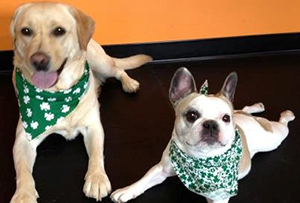 Compared to tile, uncoated concrete, and laminate flooring, epoxy flooring is far superior for application in animal and veterinary environments.  From a performance standpoint, epoxy floors are free of seams and non-porous and extremely durable. Aesthetically speaking Palma Inc.'s diverse line of flooring design options can be utilized to suite your style needs and your budget.  Custom logo applications, lines and markings can be applied to add flair to your office or help your visitors find their way.
Anyone who has ever owned a pet knows that animals can be tough on floors.  Veterinary professionals know all to well the effect animal hair, animal waste, claws, paws and cleansing chemicals can have on floors.  When it comes to animal shelters, animal hospitals, pet shops, animal research facilities and veterinary offices, Palma Inc. has the flooring solution you can stand on.
Flooring features for animal hospitals, shelters and veterinary offices
Certified waterproof, impermeable against animal stains, odors and chemicals
Slip resistant floors to help you stay on your feet
Seamless, non-porous, and antimicrobial flooring so the germs that cause odor have nowhere to hide
Available in multiple colors, styles and thicknesses with customized designs to meet your unique needs
Contact us for to build a custom flooring solution for your animal facility.
Suggested Floors for Animal Facilities
Sterile, easy to clean and maintain the PaliKrete ColorFlake System
flooring from Palma Inc. is a stylish choice for animal facilities of any size