Chemical- and Acid-Resistant Flooring For Labs
Epoxy floors for chemical manufacturing and processing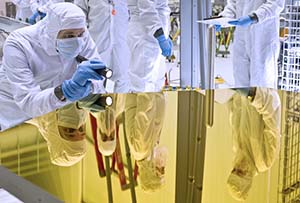 When strict environmental conditions must be met in your laboratory, Palma Inc. will create a professional floor that holds up to your standards. Whether you are working in a chemical processing facility, research and design lab, a high school chemistry lab or industrial compound manufacturing plants; our surfaces will cover your needs.
When quality and reliability are essential, choose an epoxy floor that is designed to meet highest expectations. Palma Inc. can design a custom epoxy flooring solution for your laboratory that is slip-resistant, heat-resistant, chemical-resistant and shines to reflect your sterile working environment.
Factors to consider when choosing a laboratory floor:
Are aggressive chemicals used in your laboratory?
Do you work in a wet environment ?
Do you require impact resistance?
Does your facility require emergency showers?
When the details matter, contact us to create a laboratory floor for your company.
Best Floors for Laboratories
Extreme heat and chemical resistance for research and
development labratories, testing facilities, showers and clean rooms