Shower Locker Room Epoxy Floors
Slip- and mold-resistant epoxy floors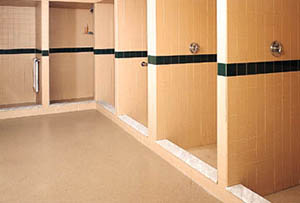 Shower rooms, changing rooms and locker rooms have to withstand a unique set of conditions including high heat, constant moisture and high humidity.  Palma Inc. will bring your shower room to life or make it last a lifetime using its epoxy flooring systems.
The Palma line of fungus and mold resistant, non-porous epoxy flooring is ideal for commercial shower, locker and changing rooms.  Where abrasive chemical detergents and sports equipment can wear away other floors, the Palma epoxy flooring systems perform under the toughest conditions. These floors will always look their best and are easy to maintain.
Factors to consider for shower room, locker room and changing room floors:
Will harsh chemicals such as chlorine or solvents come in contact with the floor?
Will industrial chemicals be used near the shower room?
Is slip resistance a key priority for your facility?
Do you require drainage, sloping or pitching?
Palma Inc. can create a floor that will look clean where people get clean. Contact us today.
Suggested Floors for Showers
Impervious to mold, mildew and fungus with a clean multicolor quartz finish that looks as good as it performs PalmaLite PaliKrom is great for showers.
A superior choice for showers the PaliKrete ColorFlake System is waterproof, and resistant to mold, mildew, fungus and is easy to maintain.