Covering The Aviation Industry With Epoxy Flooring
Epoxy floors for terminals, hangars and maintenance bays for airports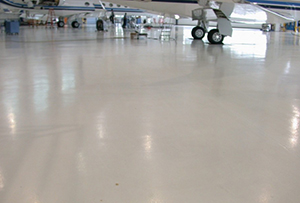 Air travel can be stressful, with delays, layovers, cramped seats and crowded corridors. But that's nothing compared to the stress put on flooring in the aviation industry.  The weight of airplanes and vehicles, tire marks, fluid leaks, oil spills, and heavy foot traffic are just a few of the stressors that damage floors in the aviation industry daily.  Protect your investment with Palma Inc.'s line of cost efficient, durable, aesthetically pleasing epoxy flooring solutions.
Whether in private, or professional garages, airplane hangars, showrooms, terminals or anywhere in between, Palma Inc. can create a customized plan to solve your flooring problems.  We offer a wide range of thicknesses, colors and designs to match your style as well as your budget. Palma Inc. has extensive experience in providing top quality, cost effective flooring for aerospace and avionics, helicopter bays, military bases and maintenance areas.
Factors to consider for airplane hangars and helicopter bay floors:
Tough abrasive chemical resistant flooring stands up to fuel, oil, fluids and anything else you can throw at it
These floors last longer than concrete and are easy to maintain
Palma Inc offers a wide selection of colors, designs and styles to suit your style
Customize your floors with directional information, gate numbers, logos, striping, markings and more
Do you want to add a decorative flake to complete the VIP experience?
Contact us for information about creating a custom epoxy flooring solution for your aviation facility.
Suggested Floors for Aviation
A great choice for small private hangars, garages and service bays, PalmaLite UniKrom is a solid floor for projects with limited budget.
Add a simple touch of style to baggage claim areas, food service areas, and high end airport stores with the PaliKrete ColorFlake System.