Long-lasting Floors For Government Buildings
Epoxy flooring solutions for cities, counties and state governments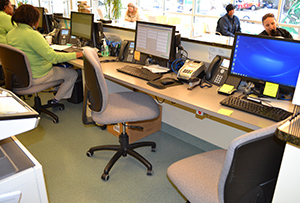 Palma Inc. specializes in creating custom epoxy flooring solutions for every type of governmental application that is long lasting and cost effective. From the hallway at city hall to the courthouse and the city jail – our epoxy flooring will cover any governmental need. Palma Inc. doesn't just specialize in floors for municipalities. We design and install floors for school districts, county buildings, state contracts and military applications including housing, showers, mess halls and general purpose base flooring.
We know that governments must use tax dollars wisely – which is why we ensure our work is performed adhering to your strict specifications and within your budget to avoid costly change orders. Governmental buildings must also withstand the test of time, be highly functional and durable so the taxpayers get the best return on investment and the city is always looking its best. And, our slip resistant finish will ensure safety comes first.
Factors to consider when choosing a government floor:
Do you require slip resistant floors?
Do you have city colors you want incorporated in the design?
Do you want to mark off sections with floor markings?
Easy maintenance
Is this covering an existing epoxy floor?
Do you need fast installation?
Contact us to learn how Palma Inc. can create a floor for your governmental facility.
Suggested Floors for Government
Solid color epoxy flooring solutions ideal for government buildings, service bays, garages, and military applications.
Insert some color into any city hall, courthouse, county building, call center or any government building with the PaliKrete Pigment System.