Sports and Stadium Epoxy Floors
Durable, slip-resistant epoxy flooring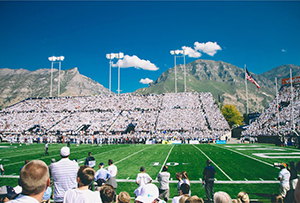 Palma Inc. applies flooring that can withstand the punishment of any team. Our epoxy flooring solutions are suitable for various sports stadiums and venues where flooring is needed; whether it's new construction or a renovated facility. From professional sports arenas down through college and high school sporting complexes, our durable, slip free floors will compliment your stadium and arena space.
Whether you need flooring for a hockey rink, baseball stadium, basketball court, motor sports or anywhere in between, Palma Inc. can create flooring for every aspect of a sports arena. At Palma Inc., we create flooring solutions for locker rooms and shower floors and can provide a floor with a slip resistant finish to floors in the hallways, concourse to the rest rooms. Boost team spirit by applying team colors using a decorative color quartz or setting apart an exclusive VIP area with our decorative flake system.
Factors to consider for sports and arena flooring:
Will your floor match your team colors?
Is this a new or refurbished floor?
Will sports teams walk on the floor using cleats or skates?
Are chlorine, other chemicals or detergents used near the shower facility?
Will heavy sports equipment be used?
Contact us to find a flooring solution that will withstand any team and fan base that still looks great for game day.
Suggested Floors for Sports Stadiums and Arenas
Get your team into shape with PalmaLite UniKrom for practice facilities, locker rooms, showers, team rooms, field houses, gyms, and weight rooms.
Every season millions of spectators turn up to support their favorite team and all those feet can do a number on your floors.