Flooring That Supports Our Police and Fire Departments
Epoxy floors for police and fire stations and ambulance bays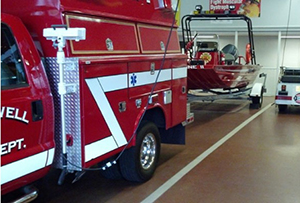 When a government or organization needs a floor that is as tough as our first responders, turn to Palma Inc. for custom broadcast epoxy flooring solutions. Our floors are built to withstand the demanding conditions of fire stations, police stations, ambulance bays and emergency management areas. With chemical resistance, flexible color and thickness options, Palma Inc. can create a a floor that fits your needs.
These floors offer durability, slip resistance, water and chemical resistance and still look great for public tours. Palma Inc. can design a floor for your firehouse that won't let you down when you need it most. These floors can withstand the demands of heavy equipment, automotive fluids and tire staining and can match your city colors or the motif of your room. These floors are easy to clean and can also be customized with sections to designate different bays in a firehouse or ambulance station and also accommodate high traffic areas for all emergency services.
Factors to consider when choosing a floor for emergency management facilities:
Do you have apparatus bay in your firehouse?
Do you want your logo painted on your firehouse floor?
Do you require slip-resistant flooring?
Do you want flooring that is easy to clean and slip resistant?
Do you require chemical resistant flooring for decontamination showers?
Contact us for information about flooring for emergency management facilities.
Suggested Floors for Emergency Management
When the call comes through be ready to jump into action. PalmaLite UniKrom is slip resistant, chemical resistant and tough as nails.
With a bright attractive finish that adds appeal to ambulance bays and firehouse floors the PaliKrete Pigment System is ready for any emergency.