Flooring Tough Enough For Jails
Epoxy floors for jail cells, showers, locker rooms and cafeterias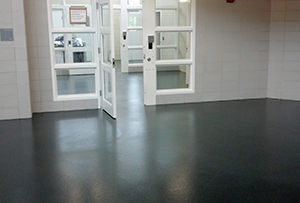 Jails, prisons and detention centers need tough floors that can stand up to heavy traffic but are also easy to clean. Palma Inc. provides a variety of safe and sanitary flooring solution for any correctional facility. Our high quality broadcast epoxy flooring solutions can be applied anywhere including showers, kitchens, multi-purpose area, cells, gyms, bathrooms and locker rooms.
Palma Inc. designs custom flooring solutions that are slip resistant, which is perfect for common areas, shower rooms and hallways. Our anti-bacterial surfaces are easy to clean and maintain and last longer than traditional concrete options. Whether you are a government-run or private institution, we will work with you to provide a durable, safe and sanitary flooring solution that meets your design criteria including custom colors to section off cells or recreation areas and providing flooring for any area of your facility from entrance to the changing room for officers.
Factors to consider when choosing a prison floor:
Do you require impact resistance?
Do you need a scratch and slip resistant finish?
Do you need sanitary flooring for shower or medical rooms?
Do you need heat resistant floors for your cafeteria kitchen?
Do you have a workroom where heavy machinery is used?
Contact Palma Inc. for a custom epoxy flooring solution for your correctional facility.
Suggested Floors for Correctional Facilities
Palma Inc. has applied miles of PalmaLite Novolac flooring to prisons, correctional institutions and detention centers.
Available in 12 colors for recreation rooms, cafeterias  and visiting areas the PaliKrom flooring system is a great choice for correctional facilities.