Floors That Can Withstand Heavy Weight
Slip-resistant, durable epoxy flooring for manufacturing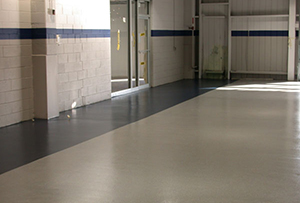 Factory floors see a lot of use each and every day and its often the last thing business owners consider. From daily wear and tear to heavy impact and abrasion to chemical and oil spills, having a reliable flooring solution could mean the difference in a company's production time and budget.
Palma Inc. designs epoxy flooring solutions for factories and manufacturing facilities that withstand the daily grind and still shining each morning. These epoxy floors can cover new and refurbished surfaces and can be customized to meet a variety of needs. These floors are seamless, slip-resistant, impact resistant, water-resistant and can withstand high heat and abrasive chemicals. Palma Inc. can customize your floors so they are fit for a company tours and walkthroughs.
Factors to consider when choosing a floor for a factory or manufacturing facility:
Does your floor need to withstand high impacts or a heavy load?
Will heavy machinery, such a forklifts or vehicles be used on the floor?
Does your factory use abrasive chemicals or oils?
Do you require lining, striping, marking or logos?
No matter how big or small your widgets, contact us to create the foundation for business to build upon.
Suggested Floors for Manufacturing
Revolutionize your manufacturing process with a clean, sterile, solid color floor, complete with logos and employee navigation information.
Style and functionality combine in 3/16″ slip resistant, colored quartz epoxy flooring system ideal for manufacturing application.